4 March 2021
The workshop's new creations for 2021
The latests BAAK models features were followed by a high number of requests from you asking wether you could get this saddlebag, this mudguards or this headlight plate… Our team got highly motivated by your enthusiasm and we're happy to introduce our latest creations to you, so everyone can achieve his custom project !
Leather washers for T100/T120 gear shifter
Our Leather washers for gear shifter complete the style of your Triumph. The devil is in the details and these 10 leather washers, black or brown, will attract the most attentive eyes. These leather washers in full grain natural leather which guarantees them perfect durability over time, will leave less black marks and damage your shoes less. One size, sold by 10.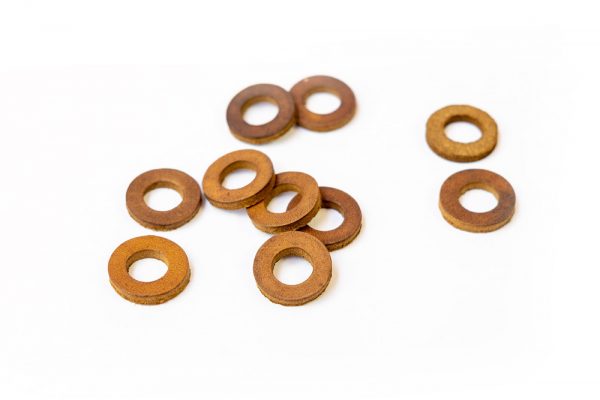 Universal Trail headlight plate
Our universal double optics headlight plate takes its inspiration from the 80's Trail universe. Perfect for a Scrambler project, this headlight plate is designed by our team and manufactured out of glass fiber. It includes a wiring harness extension and aluminium fixation brackets supposed to be assembled on the fork tubes (ø39 – ø40mm / ø41 – ø42mm / ø43mm on choice).
We offer it in raw finish, ready to be painted in the color of your motorcycle.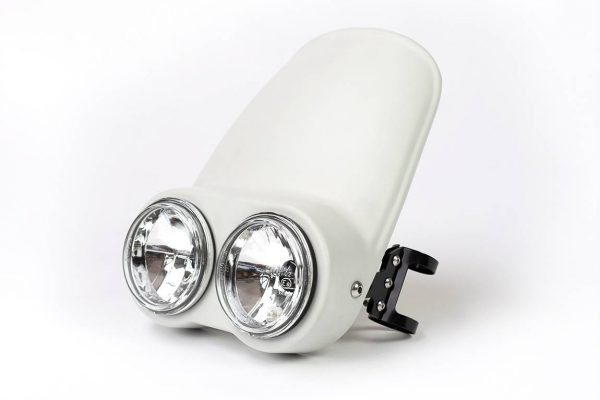 Side leather saddlebag for BMW R NineT
This side leather saddlebag for BMW R 1200 NineT comes in place of your original air intake. His manufacturing is based on an aluminium plate that guarantees a rigid fixing on the machine, wrapped with leather to create a result that is harmonious with your gas tank shape.
This saddlebag is available in Aged brown, black, gold or ruby leather.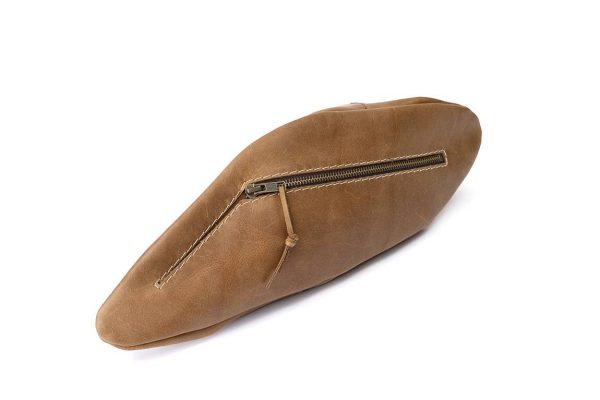 T-shirt BAAK Collector N°6
You asked for it, here is our Collector t-shirt featuring BAAK's Royal Enfield.
The color touch is manually applied on each t-shirt, then a texture contrast between inks reveals: you t-shirt becomes unique.
This t-shirt is mixed, both He and She will stylishly wear it.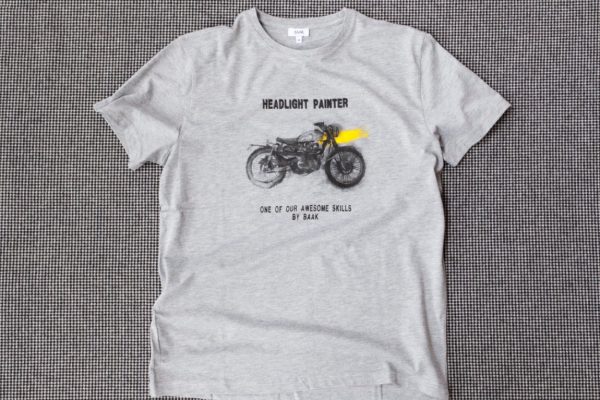 BAAK N°1 ø25,4mm handlebars for heated grips Triumph (2016-…)
This wide stainless steel handlebars has the same design as our BAAK N°1 ø25,4mm handlebars, and includes the notches and inserts required to fit the original heated grips of your Triumph (2016-… I liquid-cooled). Available in Brushed and Satin black finish.
The assembly of this part on your Triumph requires to replace the original hose and cables using our Long cables kit, make sure to entrust a professional mechanic to do the job, this is about your safety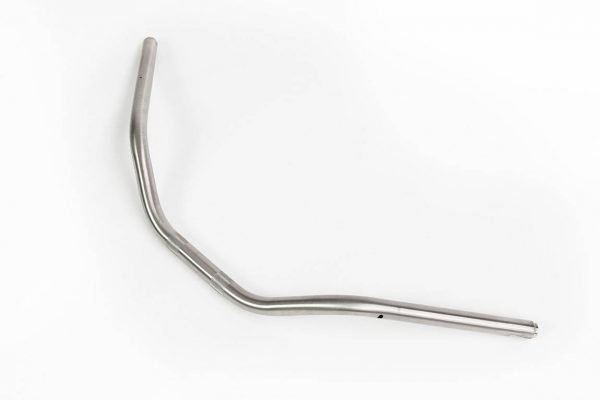 Trail rear mudguard for Royal Enfield 650 Interceptor / Continental GT
Trail rear mudguard for Royal Enfield 650 Interceptor / Continental GT (2018-…), manufactured out of stainless steel by our craftsmen in France. It's THE mudguard for adventurers, the ones used on our Royal Enfield 650 Interceptor BAAK Aventures. It's shorter than the original mudguard, while providing an efficient protection against the rear wheels splashes.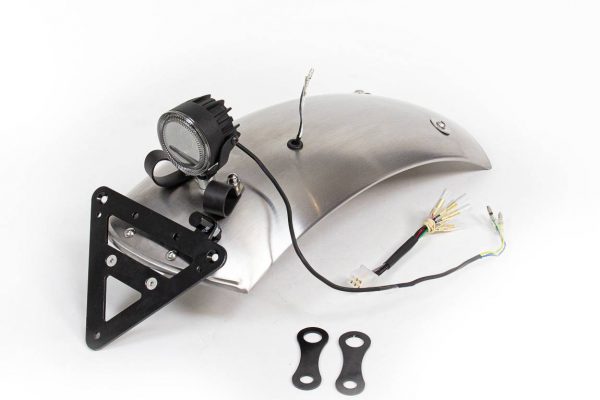 Trail engine protection for Royal Enfield 650 Interceptor / Continental GT
Aluminium engine protection for Royal Enfield 650 Interceptor / Continental GT (2018-…). In addition to offering your Royal Enfield an adventurer look, this sump guard provides a real protection to your motorcycle in any situation. His 4mm thick aluminium structure is a bulwark against the terrain bumps that could his your engine block.
Very easy to assemble on the motorcycle, this engine protection comes with all the necessary stainless steel mounting hardware. It's available in Satin black or Brushed finish.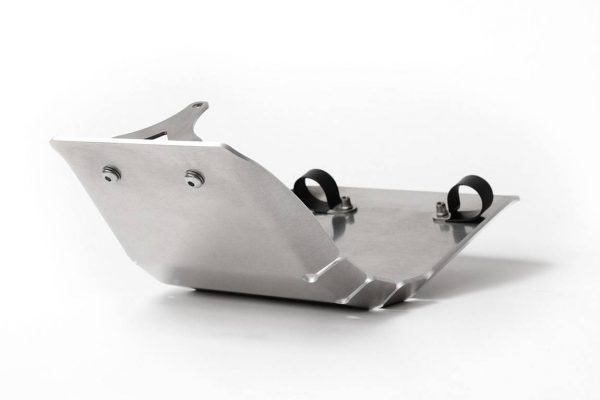 Universal handlebars controls kit
This Universal handlebars controls kit is essential to clear your cockpit. Each part of the kit must be purchased separately :
Brake master cylinder
Throttle
Clutch lever
This kit designed by our craftsmen shows a perfect finish level thanks to his assembly quality and satin black powder coat painting. These parts are available for machines equipped with ø25,4mm (1 inch) or ø22mm (7/8) handlebars.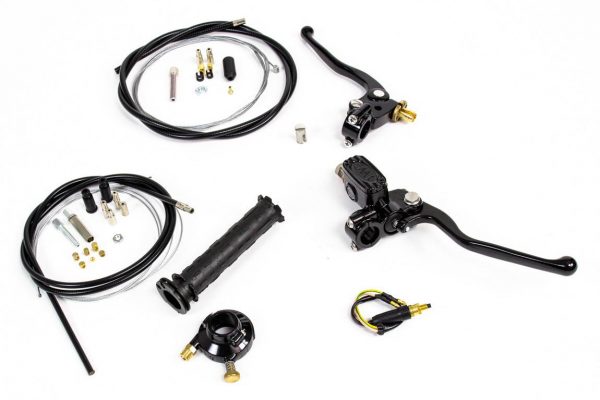 License plate holder for US format side license plates
This license plate holder is suitable for US size license plates (vertical) mounted in side position. It's manufactured out of 3mm thick aluminium and it's satin black powder coat painted.
This part is suitable for BAAK side license plate holders.