27 April 2023
BAAK USA x Julien Fabro: Beyond just a photoshoot
Life is made of encounters. The people you meet daily enrich you and make you grow. Without these meetings, our worldview would be extremely narrow and far from how rich it really is. This story is the very definition: a chance encounter, an extraordinary adventure, and memo- ries for a lifetime.
Here is the story of the BAAK USA team, Remy and Laura, and Julien Fabro, who gathered in California for a photo shoot around motorcycles. A journey filled with emotions and stars in the eyes.
Julien Fabro is a modern-time storyteller. He is part of this young generation of "Swiss army knife" entrepreneurs who have given up everything to realize their dreams and live from their passions.
In 2013, he created the news media Piwee, attracting a million monthly visitors. In 2016, he created his YouTube channel to share his travels and adventures. With nearly 300 videos and 10 million cumulative views, he has gathered a community of 150,000 people.
Today, Julien is a young art director who knows the codes of social networks perfectly. He can imagine captivating stories and produce creative images for the biggest brands. A specialist in color and light work, he particularly appreciates travel, adventure, and product photography, which has taken him to 6 continents so far, from the geographic North Pole to Antarctica.
Julien met the BAAK teams during the Wheels and Waves festival in June 2022 in Biarritz. And discover that they share the same passions, the same attraction for beauty and love of details: him through his lens, BAAK through the creation of motorcycles, each more beautiful than the other.
While discussing one of his next adventures, he mentions his upcoming stay in California and his desire to visit the BAAK workshop in Los Angeles. Why organize a simple visit when you can experience something extraordinary? This was Laura's reaction during her first virtual meet- ing with Julien.
"Let's live a new experience and write a beautiful story together!"
– Laura, BAAK USA.
"I found myself at LAX with Remy and Laura after my trip to Polynesia, and we didn't know each other! But we instantly connected! I think I was too eager to meet them. I jumped right in and was so happy to be in California finally: barely arrived at the airport, we went straight to eat a very good In N Out burger with the planes landing above our heads. It was amazing. Then we got donuts from a drive-through, I didn't even know that existed! I arrived in the United States and was immediately immersed in their culture."
– Julien
The introduction
This is how Remy and Laura find themselves three weeks later picking up and meeting Ju- lien at Los Angeles airport. He was coming back from three weeks of shooting content in French Polynesia. The adventure could begin! Julien will share Remy and Laura's daily life for the next week or so, they made it their mission to help Julien live as many experiences as possible, each crazier than the next. Welcome to BAAK USA!!!!
But first: a stop at In N Out, THE proper Californian fast-food experience…
Every moment counts, Julien does not even have time to recover from the jet lag that Remy and Laura introduce him to the BAAK USA workshop to choose his bike of the day before setting off to discover Malibu. First surprise: they invited a dozen bikers and a Mustang from the 70s for a first photo shoot in the Malibu hills.
"Imagine the scenario: it's 6 p.m., the sun is setting on the Pacific coast, it's Golden Hour, the light is incredible, the sun is reflecting on the ocean, we are all riding together and sharing this moment out of this world. Being on a motorcycle is such a special feeling, you are alone on your motorcycle and somewhat cut off from everything, but also in the moment that is shared between enthusiasts. Thank you to all the participants who responded to our call: Adam, Nik, Albert, Cole, Jack, and Daniel: You guys rock!!!!!"
– Laura
Why don't we go on a road trip?
Julien wanted to discover the Californian desert, a fascinating landscape that inspired him. So here they are in full preparation for a three-day road trip. They have three BAAK motor- cycles available to write a new story.
And so they headed to Alabama Hills, a scenic area little known to tourists, located 3 hours north of Los Angeles. They will discover, as soon as the sun rises, incredible lunar land- scapes seen nowhere else.
"We had prepared for this road trip ahead of time, but I can say that the schedule changed a little: our program was finally decided two days before going because it was very hot at that time in California. Even though I knew I wanted desert and dust, it was all a bit last minute! The key was to rent a truck to haul a trailer and carry the 3 bikes. The type of organization I like, without a rigid organization and some room for improv."
– Julien
"Alabama Hills: a kind of lost desert in the heart of California. A lunar desert landscape, large round rocks, and exceptional colors. We arrived at dusk, saw the sunrise, and did a super creative shoot with textures and materials. It was striking. I was inspired for a shoot with an art direction based on astronomy, with the Bobber Moon, of course, helmet, and silver jacket."
– Laura
Their journey did not end there, as they headed to an extraordinary beach: Pismo Beach. This beach is very special, as it is one of the only places you can ride on the beach legally. This time they are not alone. They rode between the waves of the ocean, big American trucks, and other motorized vehicles (all crazier than the other). We can imagine them with their hair in the wind, the sea spray, the sand under the tires, and a big old smile from ear to ear.
"Alabama Hills: a kind of lost desert in the heart of California. A lunar desert landscape, large round rocks, and exceptional colors. We arrived at dusk, saw the sunrise, and did a super creative shoot with textures and materials. It was striking. I was inspired for a shoot with an art direction based on astronomy, with the Bobber Moon, of course, helmet, and silver jacket."
– Julien
"This feeling of freedom, this happiness to be there and to experience this together when we have known each other for about two days, is simply indescribable."
– Laura
Julien's take on the trip
– Which BAAK motorcycle is your favorite?
"The Bobber Moon was my main inspiration for this LA adventure. A truly exceptional motorcycle to both look at and ride. To me, this is among what's best when it comes to custom motorcycles, the attention to detail, the finishes, the overall design, the choice of colors. It is simply the perfect bike, and I could see it as my daily. It was a true honor to shoot this bike."
– If you had to sum up this trip?
"In fact, California has always been a dream for me. Everything is magic when you've had a dream for years and finally make it happen! I went there several times (3 or 4 times maybe) to Los Angeles, but I had always done it in "tourist mode". This time, I saw the city completely differently and even saw the United States differently. Rémy and Laura are French and have lived in Los Angeles for 4 years. They opened my eyes to a possible life, and it literally gave me wings: for me, it was impossible to move and live in the US. But I was immersed in their lives and participated in their daily personal and professional lives. What I preferred was this notion of camaraderie: it was, above all, a human adventure with two extraordinary people who shared their daily lives without fuss or frills. People of unlimited generosity and kindness. It is my most beautiful memory and thank you to both of you. I returned to France very inspired."
Julien Fabro: the upcoming project
Julien Fabro will be once again in the USA from June 19 to July 2, 2023, for a Road-Trip aboard a School Bus converted in a camper in partnership with @BAAKUSA and @CANON.
One year after his adventure, Julien imagines and creates a traveling artist residency in the American West, a pretext to experiment, create, without constraint or limits, through photography. Beds, kitchen, bathroom, small living room, rooftop, solar panels, everything is provided on board the Yellow Bus for a full autonomy during the stay. The destination is well chosen to discover breathtaking landscapes and explore how to play with natural lights as much as possible. Julien and 7 artists will travel together, from Los Angeles to Las Vegas, following the famous Route 66. We already know their journey will be filled with incredible adventures, new encounters, and uncontrolled external factors. We can't wait to discover their story, the one that can't be written in advance, the one that will be revealed during their journey.
Laura and Rémy, from the BAAK USA workshop, will join them on the road in the Joshua Tree desert with several motorcycles for an exceptional shoot
To discover Julien's project, it's over here!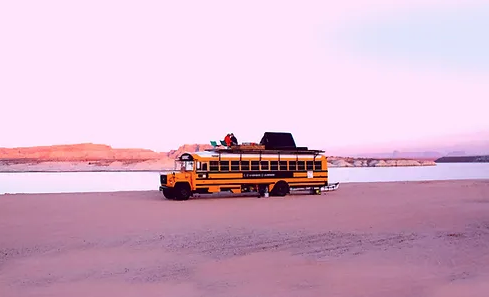 Thanks
Many thanks to Julien Fabro (@julienfabro) for capturing these superb images, transcribing the Californian vibe and sublimating the BAAK models. Thanks to Remy and Laura, whom you are starting to know, are the head of BAAK USA and with whom you should make an appointment if you want to meet two enthusiasts beyond a BAAK project.