Moto Guzzi V7 I / II (2007 – 2017)
SPECIFIC TECHNICAL FEATURES OF THE MODEL: Moto Guzzi V7 I / II (2007 – 2017). These details will help you check wether BAAK parts are suitable for your motorcycle. 
2007 is the year of the reborn of the V7 for the Italian brand Moto Guzzi. The V7 I is first introduced in Classic and Special (spoked wheels) version, then the Racer version was available from 2010. The first version of the V7 I with "square cylinder heads" was manufactured until 2012, the the engine evolution (painted cylinder heads) was launched and remained manufactured until 2014. In 2014, the V7 II was introduced. It includes the ABS, traction-control and 6 gears gearbox. It was also available as Stone, Special and Racer versions.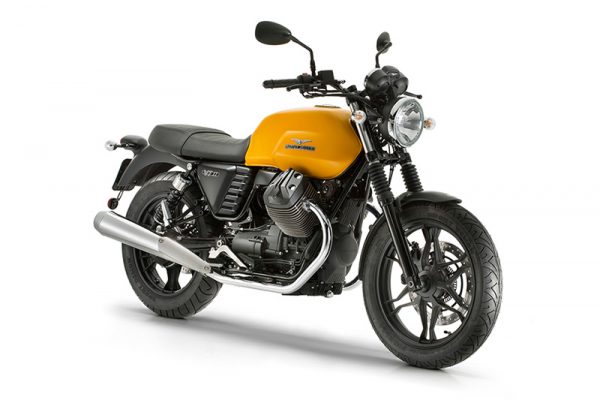 HANDLEBARS: All the V7 I and V7 II have constant Ø22mm diameter handlebars. A BAAK Long cables kit is available for V7 I only, it's not necessary for V7 II.
WHEELS: The original V7 I and V7 II models have Front 18′ / Rear 17′.
TURN INDICATORS: The original V7 I and V7 II turn indicators have 21W turn indicators. Make sure to purchase resistors to fit LED turn indicators.
SPEEDOMETERS: All the V7 have electronic speedometers that require and electronic box to work (provided with each BAAK V7 speedometer kit).
GAS TANK: The first versions of the Moto Guzzi V7 I have plastic gas tank which gas tank cap isn't suitable for our Leather gas tank strap for V7. All the other metal gas tank are compatible with this strap.
SHOCK ABSORBERS: The V7 I and V7 II models have 390mm long original shock absorbers.