BAAK & HEROES join forces to create a bike between light and shadow.
This bike had to be Black & White, like both of their logo. It was already a good start, and Remi, BAAK's founder, decided to introduce a play with textures: gloss, satin, and matte.
"The Black & White theme is far from easy. We had to work with the surfaces to bring some warmth and balance"
– Rémi REGUIN
The Raven, Heroes Media's emblem becomes a bold statement in white on the side cover as well as being the inspiration for the name of this collaboration, "Birds of a Feather".
Based on a Triumph Speed Twin 900, BAAK unveils this collaboration for a genuine mechanical creation in a limited edition: "Birds of a Feather". A bike for everything and anything, the perfect adventure buddy for your city rides and your off-road getaways alone or with a passenger. This bike becomes a part of you and reflects your personality; the only thing left to do is spread your wings.
From the cockpit to the rear fender, each part is essential in building the character of this Rambler, for a truly genuine ride. BAAK plays with the textures and nuances for an end result full of contrast and depth. Practicality, as always, is not forgotten with a large messenger bag to carry your essentials with you. Devil's in the details, and we love this at the shop so we match the cable ties and fork gaiters to the leather used on the seat.
Birds of a feather… Flock together.
Along the way, BAAK meets Anthony Perrault, a true self-taught videographer, who will be in charge of telling the story of this bike. At only 21 years of age, he's perfecting his craft trying to share his vision of life and motorcycles.
This video is directly inspired by the life of Frederic Proville, Rémi's partner. Far from his former job, its conventions and its tailor-made suits, he decided to put his experience at the service of his freedom and he joined Rémi in the BAAK adventure. He is the actor of the film. It's about him and his search for balance in his new life. A little destabilized at the beginning, without any framework, everything is possible. EVERYTHING, yes but WHAT?
The motorcycle is what will help him to go further. Boxing is what will help him to surpass himself.
It's about spreading your wings, ruffling your feathers, daring to be different.
To discover Anthony Petrault's work, here it is.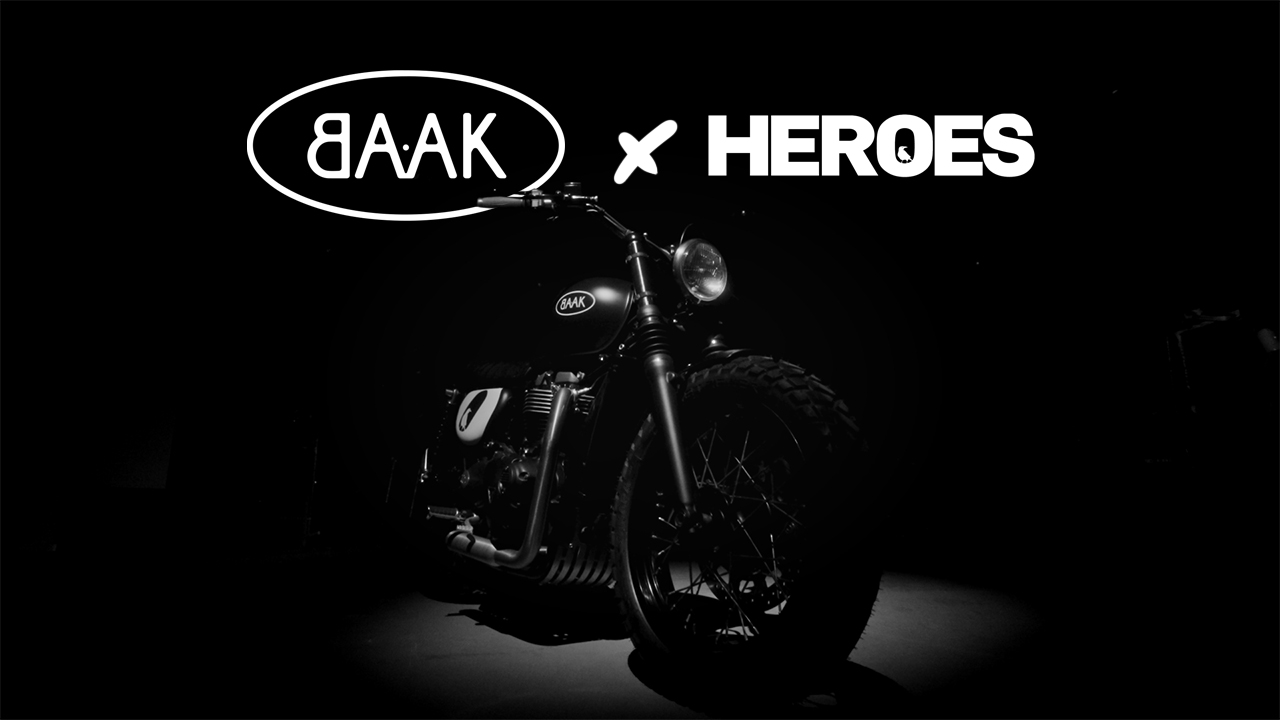 "Birds of a Feather": numbered series.
BAAK and HEROES MEDIA offer this model based on Triumph  Street Twin 900, Bonneville T100 or T120. Motorcycle made to order and completed within 3 months.
Bird N°01: from €28,000.