Triumph Bonneville air (2000 – 2016)
SPECIFIC TECHNICAL FEATURES OF THE MODEL: Triumph Bonneville air (2000 – 2016). These details will help you check wether BAAK parts are suitable for your motorcycle. 
The air-cooled Triumph Bonneville was (re)launched by Triumph Motorcycles in 2000 and manufactured until 2016, it corresponds to the Classic line of the British manufacturer. It was first introduced with a 800cm3 carburetor engine, and then a 865cm3 engine until 2006. Then it's turn into an electronic injection (EFI) from 2006 to 2016 when it was replaced by the new liquid-cooled version of the Bonneville. Many limited series of this bike were offered (Live Fast, Steve Mc Queen, SE, Newchurch…).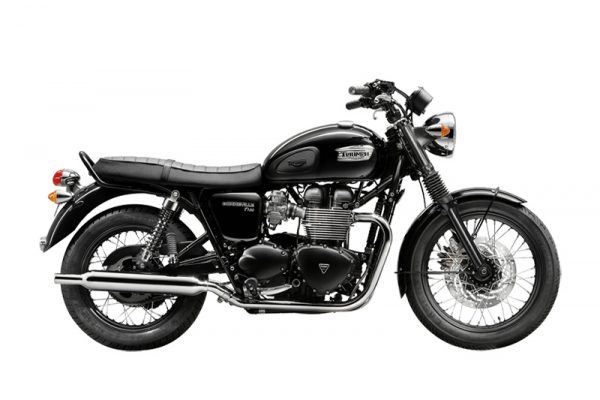 HANDLEBARS: The 800cm3 and T100 (865cm3) models have Ø25,4mm diameter handlebars, the Newchurch and SE models have Ø22mm handlebars. A full long cables kit is available for these models.
SPEEDOMETERS: All the carburetor models are equipped with mechanical speedometers. The injection (EFI) models have mechanical (cable to the front wheel hub) speedometers until 2009, and then electronical speedometers until 2016.
WHEELS: The original spoked wheels of the 800cm3 and T100 models are: Front 19′ / Rear. 17′. The original cast wheels of the SE (A1) and Newchurch models are: Front 17′ / Rear 17′.
TURN INDICATORS: The original indicators provide 21W of power. It's necessary to use Turn indicators resistors to mount 10W blinkers on these motorcycles.
SHOCK ABSORBERS: The original shock absorbers of the Bonneville are 340mm long.