Triumph Scrambler air (2006 – 2016)
SPECIFIC TECHNICAL FEATURES OF THE MODEL: Triumph Scrambler air (2006 – 2016). These details will help you check wether BAAK parts are suitable for your motorcycle. 
The air-cooled Triumph Scrambler was launched by Triumph in 2016 and manufactured until 2016, it's the adventurer model of the Classic range of the British manufacturer. It first came with a 865cm3  carburetor engine until 2006, and then an electronic injection engine (EFI) until 2016. In 2016 it was replaced by the new generation liquid-cooled Triumph Street Scrambler 900cm3 and Scrambler 1200cm3.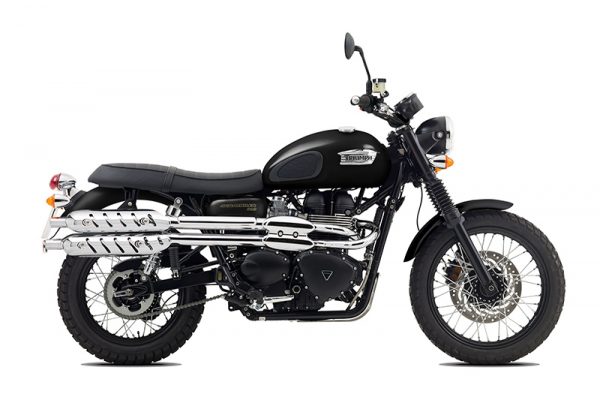 HANDLEBARS: All the Scrambler models have Ø22mm (7/8″) handlebar and controls diameter. Only the front brake hose must be replaced by the one included in our Long cables kit if you replace the original handlebar with a wider one.
SPEEDOMETERS: The carburetors models are equipped with a cable mechanical speedometer. The injection (EFI) models were equipped with mechanical speedometers (cable to the front wheel hub) until 2009, and then replaced with electronic speedometers.
WHEELS: The original wheels have the following measurements: Front 19′ / Rear 17′,
TURN INDICATORS: The original turn indicators provide a 21W of power. It's necessary to use Resistors to fit 10W turn indicators on this motorcycle.
SHOCK ABSORBERS: All the Scrambler models have 360mm long original shock absorbers.