Triumph Street Twin / Cup / Scrambler 900 liquid (2016 – …)
SPECIFIC TECHNICAL FEATURES OF THE MODEL: Triumph Street Twin / Cup / Scrambler 900 liquid (2016 – …). These details will help you check wether BAAK parts are suitable for your motorcycle.  
The new liquid-cooled Triumph Street Twin (roadster), Street Cup (cafe racer) and Street Scrambler (scrambler) are the successors of the corresponding air-cooled models produced until 2016. It corresponds to the Modern Classic line of the British manufacturer. The 3 models use a 900cm3 engine with electronic injection. It's offered in various colors, and has only one front brake disc.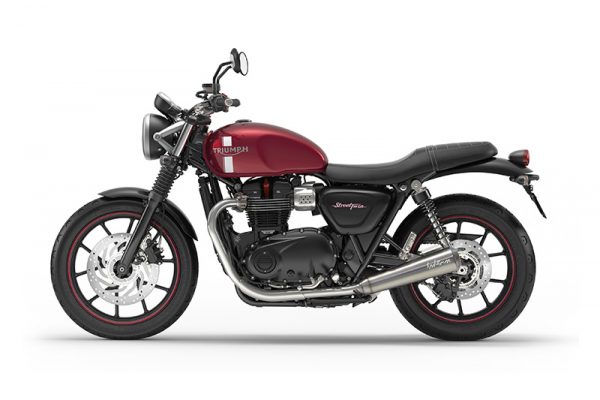 HANDLEBARS: The Street Twin models have Ø22mm (7/8) handlebar diameter, Street Scrambler models have Ø28,6mm diameter clamping area and Ø22mm (7/8) handlebar controls diameter, and Street Cup models have Ø25,4mm diameter clamping area, with a Ride-by-Wire electronic throttle. A BAAK long cables kit (front brake hose extension and clutch cable) is available for these models. In case you mounted optional heated grips, make sure to choose a handlebar with notches and holes pre-cut, or plan to do the job by yourself to re-locate the original system.
WHEELS: The original Street Twin / Street Cup wheels are Front 18′ / Rear 17′.
TURN INDICATORS: The original blinkers provide 10W of power, you can't fit 21W ones on these motorcycles.
SHOCK ABSORBERS: The Street Twin model has original 340mm long shock absorbers. The models Street Scrambler and Street Cup have original 350mm long shock absorbers.