Experiences / Road Trips / Adventures
To feel fully alive and fulfill your desire for adventures, what's better than taking the road and camping into the wild?
The Lyon's workshop team guide and escort you on carefully found itineraries and welcome you on delightful accommodations (campsites or hotel) along the way. Trust us and come experience our vision of adventure.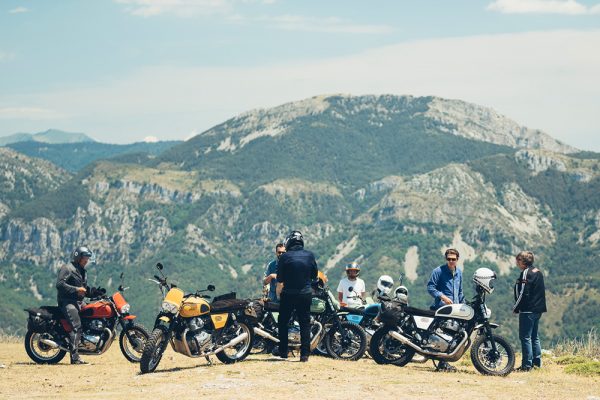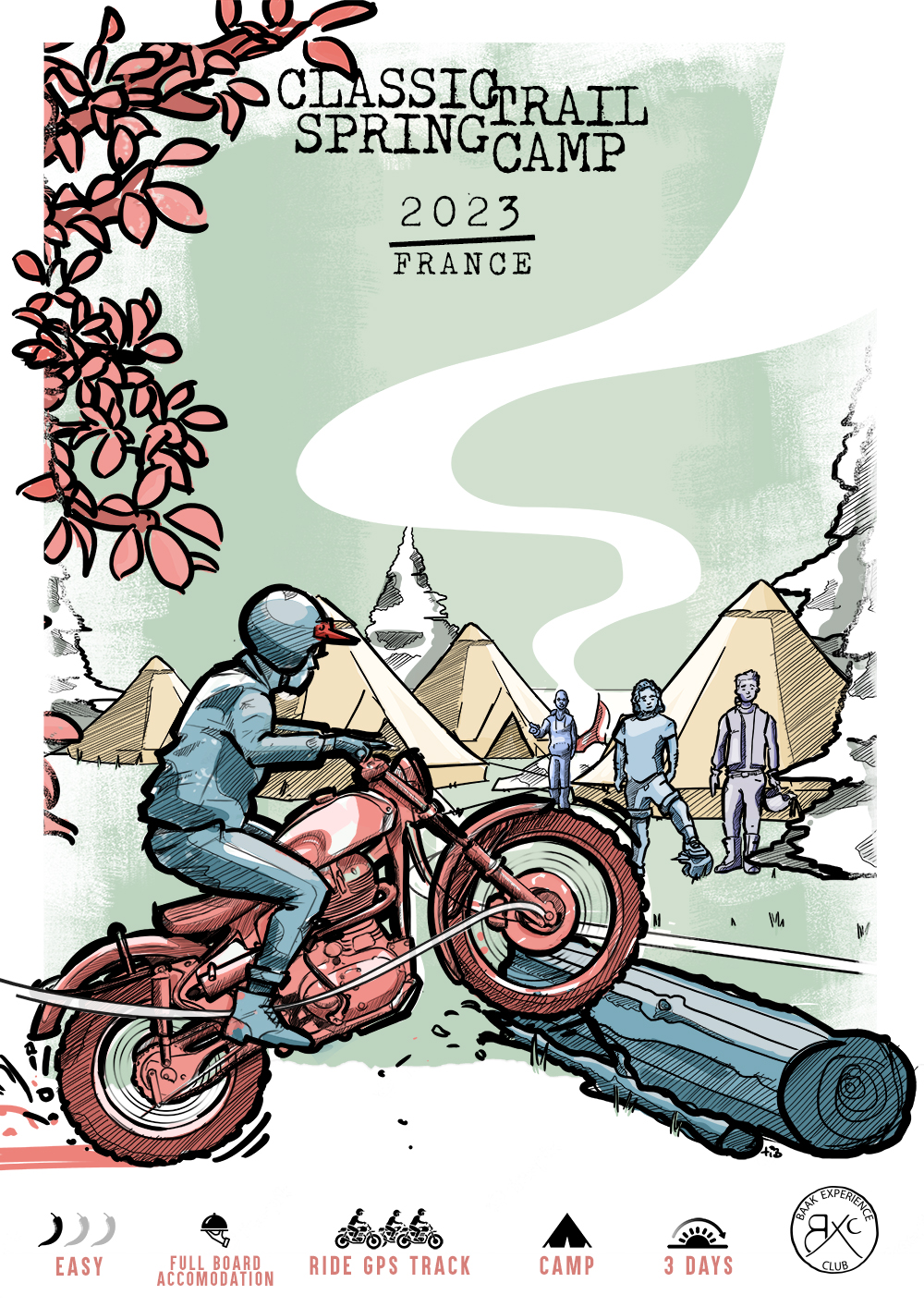 The Classic Trail Spring Camp is your chance to (re)discover dirt riding. 3 riding days across the Beaujolais with some trail riding. This "Spring Camp" is the ticket to our 5 and 6 days Classic Trail Adventures 
Dates
April 08th to 10th [SOLD OUT]
April 29th to May 1st
May 06th to 08st
May 12th to 14th [SOLD OUT]
May 19th to 21st

Informations
3 days – 2 nights
Full onboard accommodation & luxury bivouac
about 400 km (250 miles)
Beaujolais (from Lyon): Road and Trails
Beginners / Easy
Fares
1,090€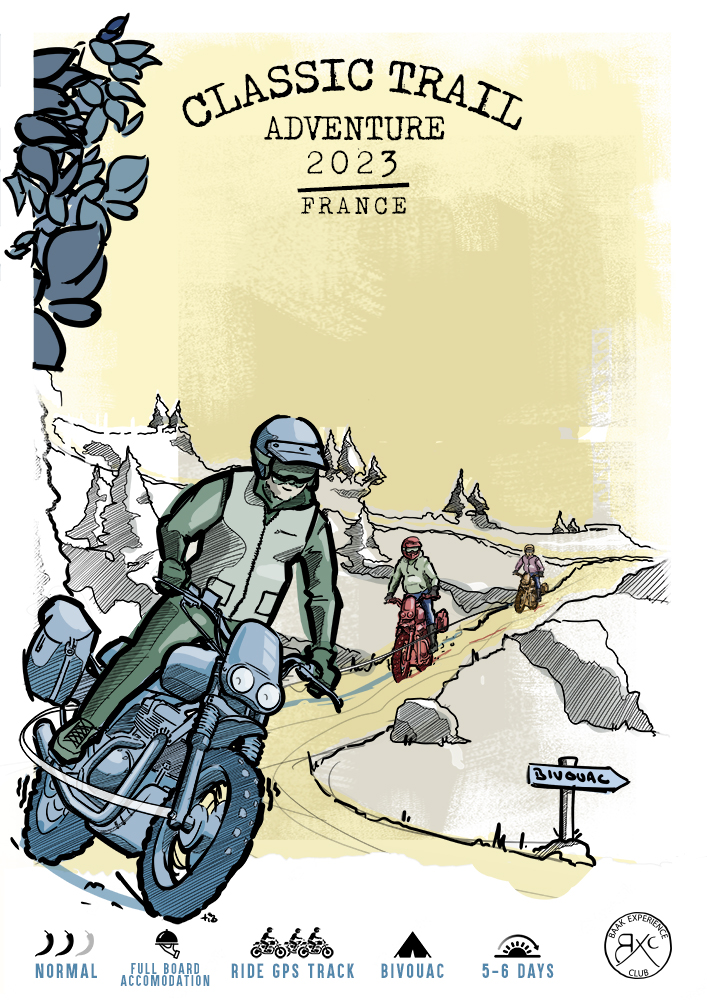 For those who want to live a BAAK Experience and live a luxury adventure. A thrilling experience where you'll re discover the joy of travelling on trails and twisty back roads. An adventure to fully enjoy our hospitality with a travelling bivouac and a private chef for an amazing dinner every night.
SOUTHERN ALPS
Dates
June 09th to 14th
July 11th to 16th

Informations
6 days – 5 nights
Full onboard accommodation & luxury bivouac
about 1,150 km (715 miles)
Nice to Nice (loop): Road and Trials
Intermediate Riders
Fares
3,090€
PROVENCE
Dates
July 04th to 08th
September 06th to 10th

Informations
5 days – 4 nights
Full onboard accommodation & luxury bivouac
about 930 km (580 miles)
Nice to Nice (loop): Road and Trails
Intermediate Riders
Fares
2,590€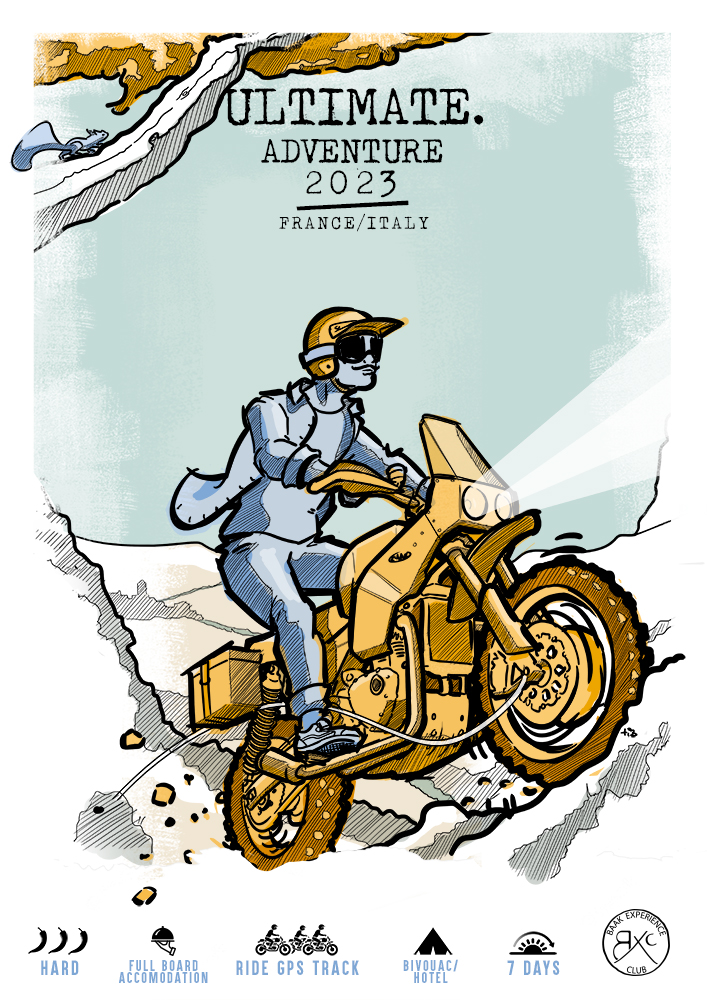 For those seeking the ultimate Experience, riding on the most beautiful trails between France and Italy. The "Ultimate" by BAAK is reserved to the Advanced riders. Only one date, to enter in the legend.
Dates
August 28th to September 03rd

Informations
7 days – 7 nights
Full board accommodation with a mix of luxury bivouac and hotels
about 1,450 km (900 miles)
Nice to Sanremo: Road and Trials
Advance Riders
Fares
3,590€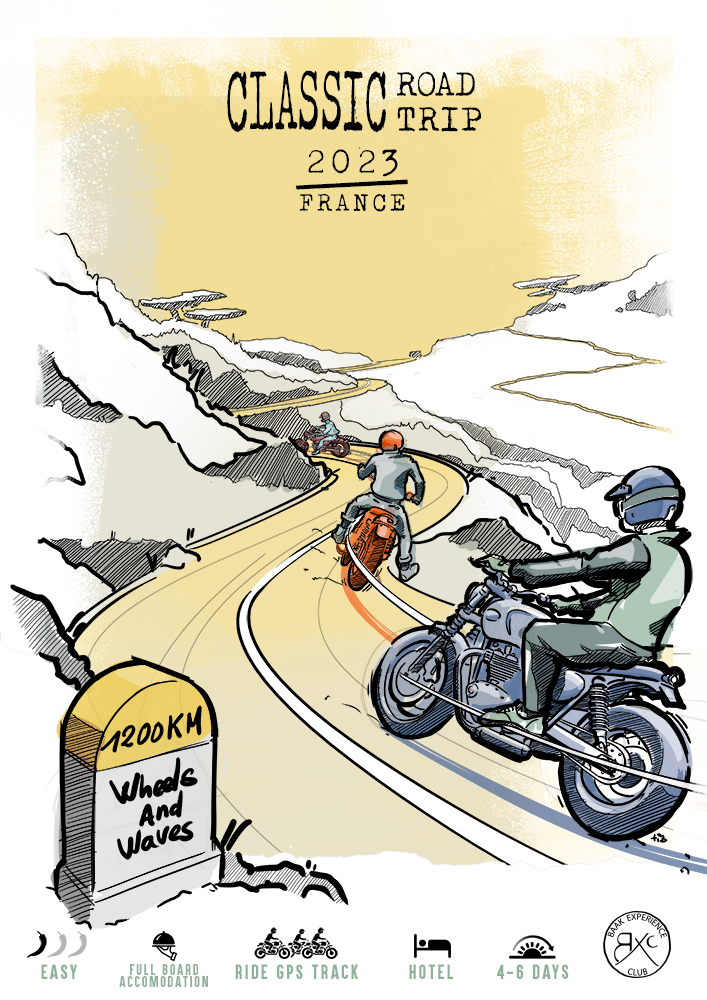 We are organizing this road-trip for you to extend the Wheels & Waves experience and its atmosphere for a small group of privileged people. After leaving the Lyon workshop, we cross France from East to West, 1,200 km to cover in 4 days. Come and discover Pilat, the Monts d'Ardèche, the Gorges du Tarn, Aubrac, as well as Quercy to the Basque Country. 4 days of escape embellished with nice restaurants in the most beautiful regions of France. The 3 nights are in a single room and we can also take care of finding you accommodation in Biarritz during the Wheels & Waves (on request). Admission to the event is also included in the price.
Dates
June 18th to 21st
(Wheels & Waves Road-trip)
Informations
4 days – 3 nights
Full onboard accommodation (hotels)
about 1.200 km (745 miles)
From Lyon to Biarritz : Road
Beginners
Fares
1,990 €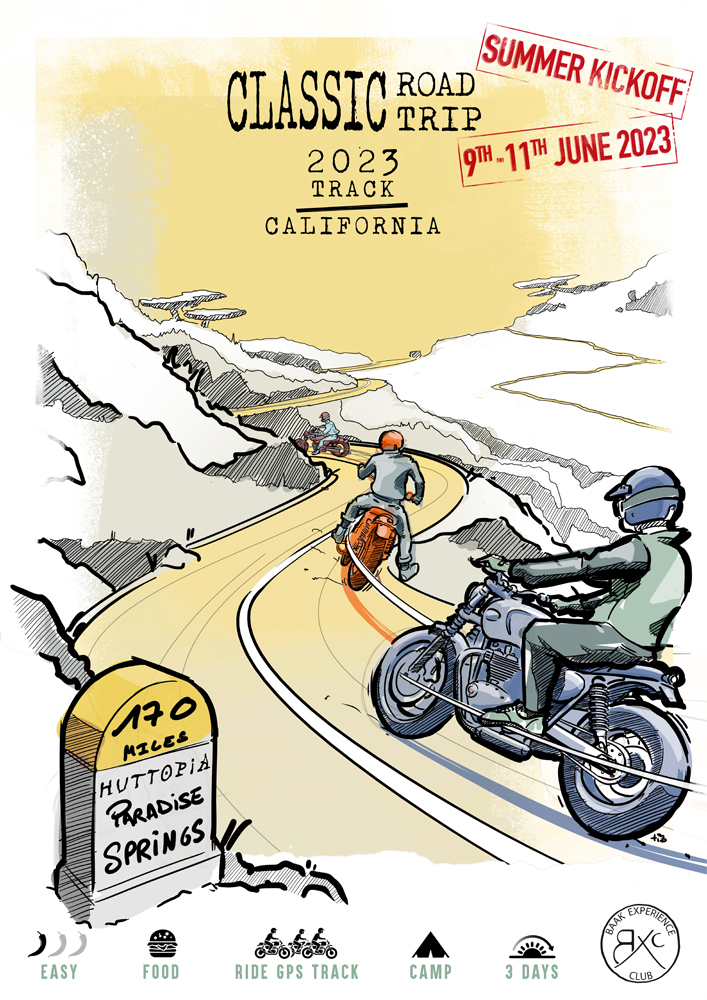 Come ride with us from the shop to the beautiful Paradise Springs in the Angeles National Forest. This first US experience is family-friendly and will be the perfect Summer'23 kick-off. The program is rather simple: ride and relax! We'll ride the legendary Angeles Crest Highway and relax by the swimming pool before enjoying an evening by the fire.
Dates
June 09th to 11st

Informations
3 days – 2 nights
Full onboard accommodation (hotels)
From L.A. (BAAK USA Shop) to Paradise Springs
Beginners
Request for infobooking
(enter the code BAAK23 at checkout for a 10% discount)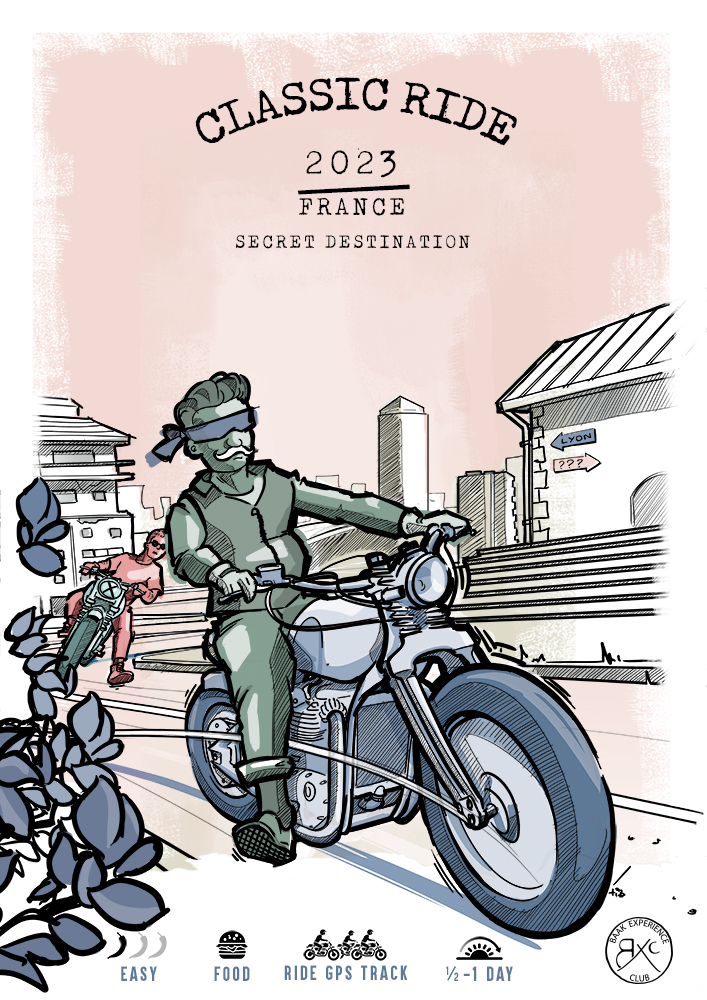 A surprise experience to share with your friends over a ride, a dinner, a drink and more… An experience in Lyon, Paris, Los Angeles…
[More info coming soon!]
THE BIVOUACS

Our camps are moved everyday by two Land Rover Defender hauling two trailers, with one of them being our fully equipped mobile kitchen. Everything is set up by our team in peaceful landscapes, between forest and pasture.
Camps
The camp consist of 2 person tents with a 130 sq.ft (12 sq.m) living space. They feature two cots with a luxurious set of Pyrenex duvet and pillow.
The tents also feature a wood stove, Fermob lights, a soft rug as well the necessary coat hanger and valet stand for your comfort. Carbon monoxide detectors, smoke detectors and fire extinguisher are of course integrated in the tent for the upmost safety.
Meals
For your 3 daily meals, you'll enjoy menus conceived and cooked with local supplies and groceries by our Chef who is part of the traveling team.
Every morning fuel up on energy and nutriment for your riding day around a continental breakfast, grab your light lunch and enjoy wine tasting paired with the best of the local cuisine every night.
THE TEAM

The experienced team escorting and guiding you is made of a Chef, a maitre d'hotel, an aide de camp and of course Romain the expedition leader.
Seasoned and experiences with moto trips around the world, Romain and his team are never caught off guard and always react in a calm and positive way to make your trip a blissful experience.
Oh and if you was wondering, yes, we speak English!
THE ROUTES

The Routes are carefully scouted and selected paths combining road and trail that you can follow with the provided GPS device.
We have composed them like musical pieces with some key moments, some more relaxed, some « chorus » like bits coming back a few time in the day. We have of course favored charming roads and colorful trails so that no matter your experience you can have fun and finish every legs of the journey.
---
Our Experiences are marketed by the Travel Agency Two Wheels Therapy.

THE VEHICULES TYPES

The primary goal of the Baak Aventures is to allow you to slow down for a few days and finally take time to enjoy the journey. And to us it seams that the best way to do so is to get back to the root of motorcycle and pure riding by using a simple bike or a classic bike to do so.
Your bike or our Rides!
You can come with your bike but for our routes only the classic Scrambler or Trail bike are appropriate to enjoy the ride as we intend to or you'll be done with the day's path by lunch time and that would be a shame! (We can take care of your bike shipping for an extra cost upon request)
If you want to live the BAAK aventures to the fullest and especially if you live half way across the world, we have a fleet of colorful Royal Enfield 650 Interceptor with a special BAAK Trail treatment.
If you choose this option, the bike will wait for you at the initial meeting point and you'll just have to leave them with your host at the end of the trip.
What did you think about it?
Here are some feedback from Adventurers who lived from the inside the BAAK Aventures road-trips..
We contacted 3 adventurers who participated in the Haute-Provence course. All carried away by the atmosphere of the road-trip for a week behind the wheels of the Royal Enfield Trail, what did they think?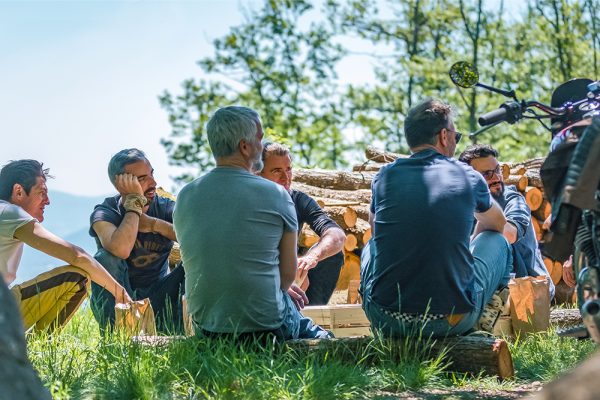 The Café Racer Only team hit the road for the Haute Provence road-trip… 3 authentic days with the watchwords Escape, Freedom and Luxury, read the article and look for all the photos.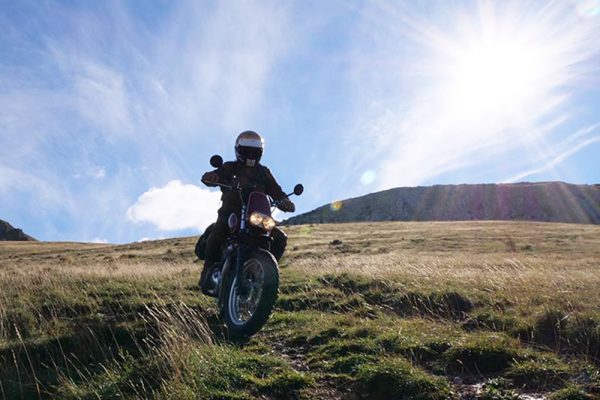 FAQ