Most of these bikes have a very special history, they have been kind of a "laboratory" for the design of our parts before we make it available for sale. We created a non-compromise model for each of it, so it can be featured at our showroom, on magazines and at some shows. These machines are now available for sale at our place in Lyon, France (14 rue de la corderie), we finally decided to free up some space to start new projects.
These exclusive builds can be shipped in France, Europe and most countries worldwide via specialized transporter. Feel free to enquire for more information, and maybe plan a road test with our team.
TRIUMPH BONNEVILLE T120 Rambler
Here is our latest version of the Rambler, a Triumph Bonneville T120 based custom motorcycle that gets a classic look and a multitude of finish details. The line is purified, the sound provided by the exhaust is rough, the handling is sharp… Everything you need to make you hearth beat.
PRICE : 23500,00€ (Tax free)  I  MILEAGE : 0 Km  I  YEAR : 2019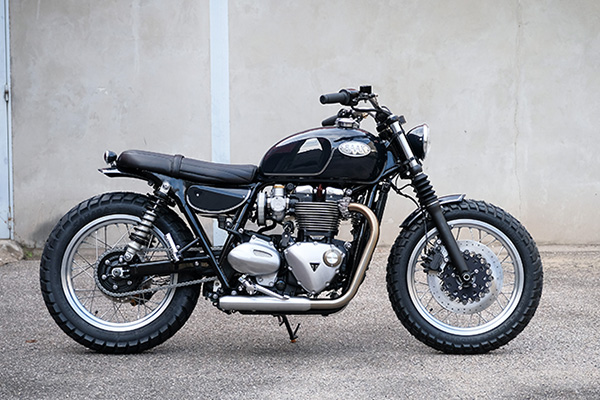 TRIUMPH BONNEVILLE T120 Bobber Full Black N°0
This machine gets a strong full black look and gets back the codes of the Bobber style machines. It guarantees to his owner a classic aesthetic, flawless finish details and an improved handling compared to the stock bike.
10 pieces of this creation will be built on order as a limited series. The model available for sale is the N°0. It's featured in our latest movie Three of a kind.
PRICE : 237500,00€ (Tax free)  I  MILEAGE : 800 Km  I  YEAR : 2018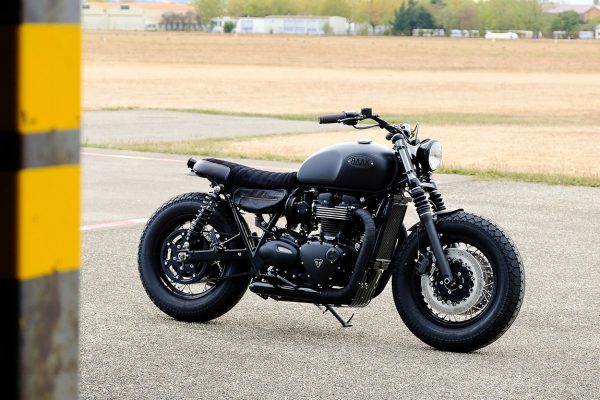 TRIUMPH BONNEVILLE T120 Dandy Bonnie
BAAK introduces it latest redesign of the Triumph Bonneville T120 in its most chic and distinguished shape : the Dandy Bonnie. Parts with flawless manufacturing finish finaly led to this timeless aesthetic result. A machine which perfectly embodies the essence of our work : excellence, classicism, craftsmanship. The work completed on the chassis make it much more fun and punchy to ride than what you could expect.
PRICE : 25500,00€ (Tax free)  I  MILEAGE : 0 Km  I  YEAR : 2019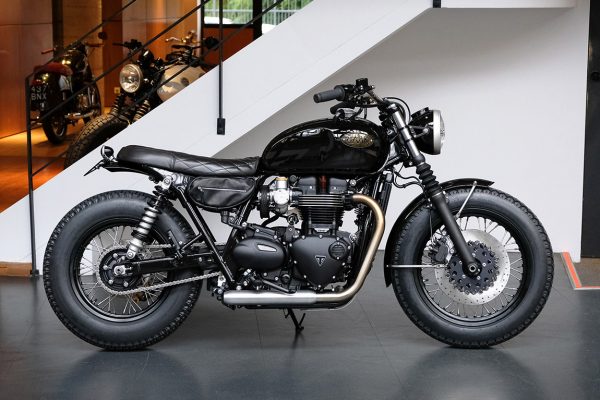 TRIUMPH BONNEVILLE T120 BATHTUB
The Triumph Bonneville T120 Bathtub is a revival of the classic aesthetic developed by Triumph in the sixties, now re-designed by BAAK with a touch of modernity. It is the last motorcycle entirely completed in our historical workshop of Tassin La Demi Lune. It's a showcase of the skills of our craftsmen, it terms of design, metal-sheet work, upholstery, assembly and attention brought to finish details.
PRICE : 41650,00€ (Tax free)  I  MILEAGE : 300 Km  I  YEAR : 2019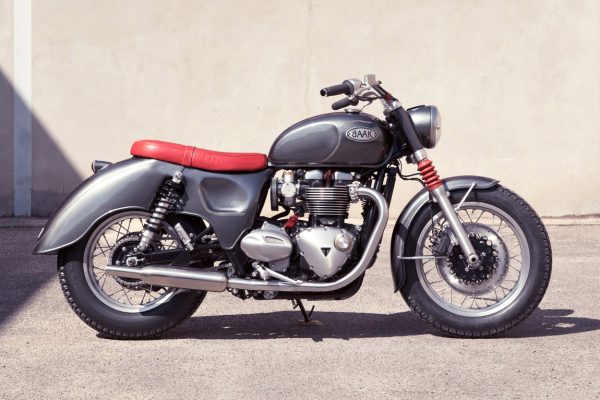 ROYAL ENFIELD CLASSIC 500 Trial 1960 Ltd
A classic trial machine, with an exceptional finish level and real off road skills. This Royal Enfield was lightened by 45Kg compared to the origin, using parts designed and manufactured by our team such as : Mudguards, wheels, fork trees, handlebars… The engine and the cycle-parts were improved so it can be more punchy and perfect to ride during trial sessions. Its off road qualities are shown in our movie Three of a kind.
PRICE : 13750,00€ (Tax free) SOLD I  MILEAGE : 700 Km  I  YEAR : 2018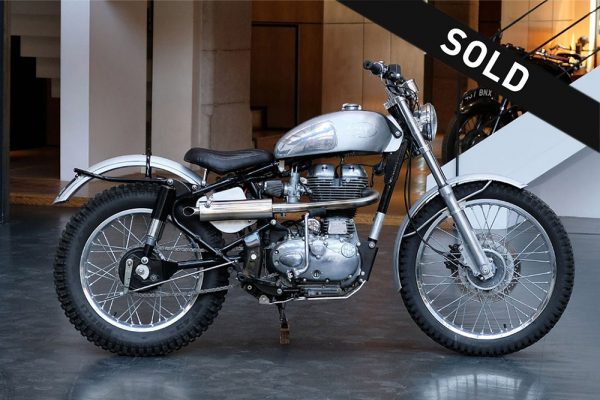 TRIUMPH SCRAMBLER 865 EFI
"A unique ride, an aggressive non-compromise look, an off road able bike that can also be enjoyed on the road". Here are the requirements of Nicolas when we designed his project together. A few years after we built this Scrambler for him, he brought the bike back to our workshop to find another ride. High front mudguard, wide bars, tiny speedometer, short leather seat kit, high exhaust pipes, sump guard, leather seat and gas tank entirely new…
PRICE : 10416,00€ (tax free) SOLD I  MILEAGE : 9000 Km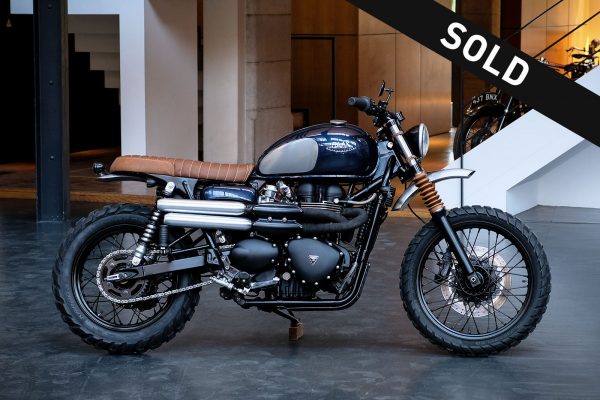 ROYAL ENFIELD CLASSIC 500 EFI TRIAL
This motorcycle is the first Royal Enfield our team has been working on. Based on a 2016 Classic 500 EFI model, we turned it into a chic adventurer. It's equipped with long aluminium mudguard, rear rack, high exhaust system, aluminium gas tank, goat skin seat, Scrambler handlebar with leather grips, classic turn indicators, headlight protection grid, 21′ and 18′ front and rear aluminium wheels, off road tires, discreet license plate support, silicone fork gaiters…
PRICE : 6500,00€ (Tax free – 9500,00€ for brand new version) SOLD I  MILEAGE : 4150 Km  I  YEAR : 2016  I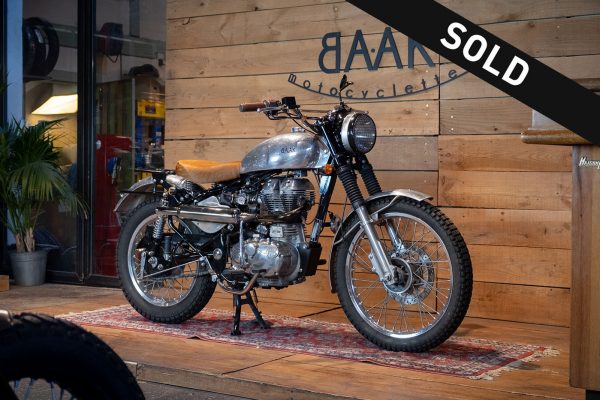 MOTO GUZZI V7 SCRAMBLER
We did our best to reveal the character of the transalpine twin by upgrading its finish level and creating bespoke parts. It offers a comfortable riding position and a handling the allows anyone make some eccentricities while riding it. Its high Scrambler exhaust line, made with stainless steel and aluminium, provides a great deep sound. We brought a huge care on the chassis of this ride, by fitting a mono shock absorber developed with shock factory, and lowering the bike. It's definitely a Guzzi that can be enjoyed both on singletracks or through the city.
PRICE : 14500,00€ SOLD  I  MILEAGE : 1150 Km  I  YEAR : 2015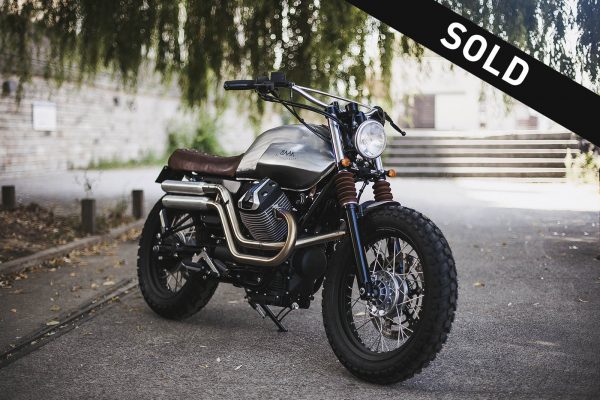 ROYAL ENFIELD VINTAGE RIDES
This creation is the purest expression of Royal Enfield's state of mind. It's a classic ride, not exuberant, simply engineered, but with the taste of authenticity. Its Desert Storm color matches the aged brown leather details we handcrafted for it (grips, side bag, seat, gas tank strap) and offers a touch of chic. With its Off road tires and its fork gaiters, it goes for a Scrambler mood that is an invitation to escape. Riding this Royal Enfield, you let yourself get driven by its monocylinder rythm providing great feelings.
PRICE : 7995,00€ SOLD I  MILEAGE : 0 Km  I  YEAR : 2017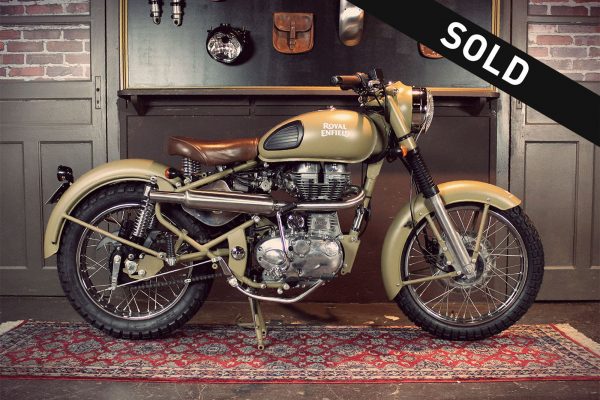 MOTO GUZZI V7 TRACKER
This machine was created on the demand of a customer that aimed at re-discovering the pleasure to ride an exceptional machine, who could both be enjoyed on winding countryside roads or cruising down the boulevards. A chic reinterpretation of the original bike, with manly sides while remaining discreet. His wide handlebar, his Bitubo shock absorbers and short exhaust make it lightweight and easy to handle. It mixes the strong aspect of a Scrambler and the very vintage look of his purified driving post.
PRICE : 10420,00€ (Tax free) SOLD I  MILEAGE : 1350 Km  I  YEAR : 2014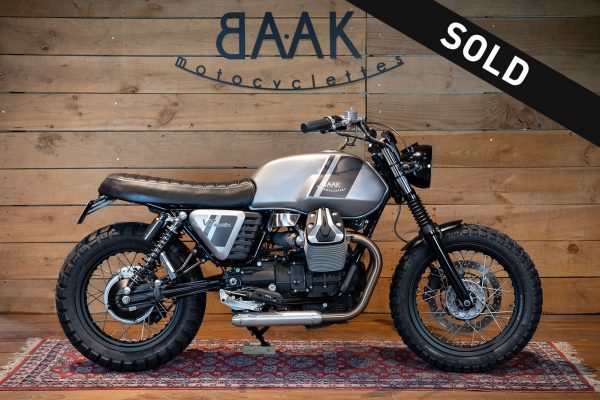 TRIUMPH BONNEVILLE T120 BOBBER
This machine is BAAK's key project for 2017, based on the new Triumph Bonneville T120 Black. It required long hours of work to visually purify the aesthetic line of the build. Lighter and more compact than the original motorcycle, it offers dynamic riding skills which enable to take advantages of the great 1200cm3 bicylinder. We wanted to introduce the build via a short movie you can view here. The Triumph motorcycle was unvealed at the Cafe Racer Festival and the Midnight Garage Festival 2017, and got featured on specialized websites such as Bike Exif.
PRICE : Please contact us SOLD I  MILEAGE : 1500 Km  I  YEAR : 2017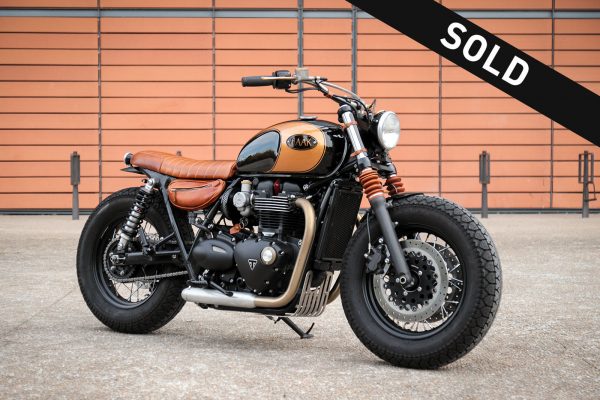 MOTO GUZZI V7 RACER LIMITED
An exclusive machine with an high finish level and many bespoke parts (fork triple trees, front brake bracket, stainless steel screwing…) that was featured in RAD and Ferro magazines. Its conventional Öhlins Black Edition fork give it a good handling and precision. The speedometer integrated in the tripode optic headlight keeps all the features of an original speedometer and enables to lighten the look of the front end. Its stainless steel and aluminium exhaust line make the engine provide a strong and deep sound that leave few people indifferent.
PRICE : 15000,00€  SOLD I  MILEAGE : 3100 Km  I  YEAR : 2015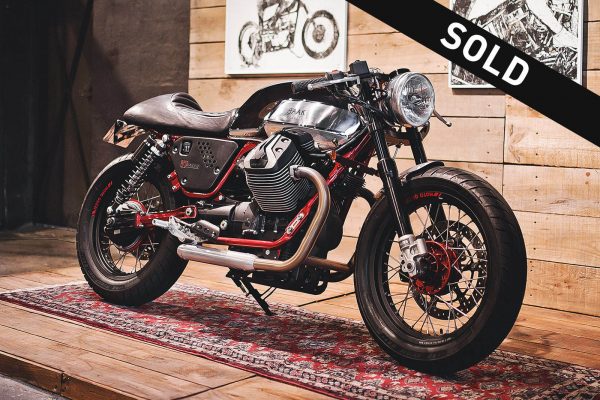 TRIUMPH SCRAMBLER
This 2016 Triumph Scrambler based build is the purest expression of an off road spirit according to BAAK : An off road able bike, that remains good at riding on the road and with a none-compromise raw look. Some leather accessories bring it a chic look, contrasting with its raw parts. Beringer provided the full braking system and its great controls we mounted on a handlebar with bespoke clamps and machined aluminium triple trees.
PRICE : 19500,00€  SOLD I  MILEAGE : 0 Km  I  YEAR : 2017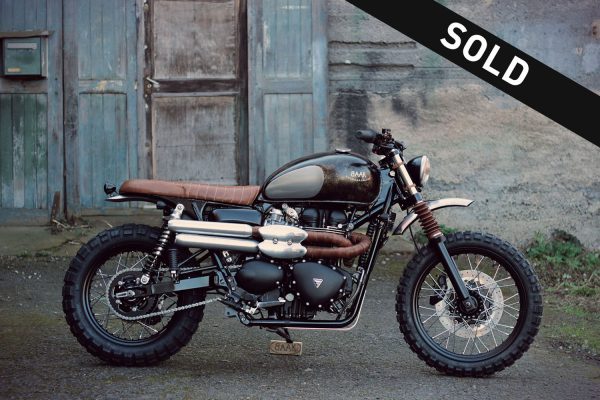 TRIUMPH STREET TWIN
This Street Twin was the first new liquid-cooled Triumph on which one we put our hands. It gets many parts handcrafted to develop our new range of parts for Triumph motorcycles. Lowered and equipped with discreet mudguards, it gets a compact look and an aggressive line. We proceeded to a plastic and low quality material hunt while working over that build, to achieve a distinguished and harmonious project. Its leather seat and saddlebag, its Vance & Hines high exhaust line and the huge work done over the front end of the bike (headlight / handlebars / clamps / headlight backets / speedometer support) make it a very different bike compared to the original Street Twin.
PRICE : 14500,00€ SOLD  I  MILEAGE : 0 Km  I  YEAR : 2017